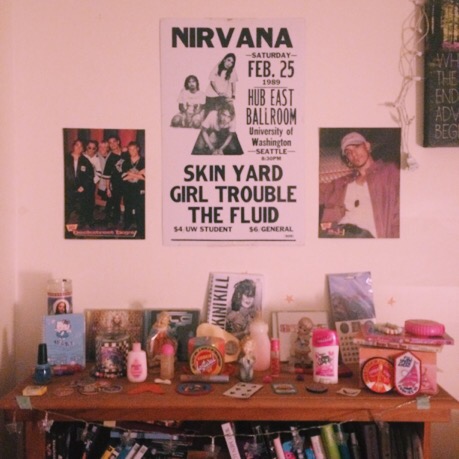 My name is Anna and I have a strange fascination with the 90s and early internet culture.
Despite being born in 1997, I have always somewhat missed the 90s stuff I was so briefly exposed to in my childhood. When you're very young and you're learning about the world, you sort of expect that everything in it will always stay the same. You don't understand that fads and celebrities and music and fashion will inevitably change, and so when I was younger, I thought that bellyshirts (the original name for crop tops), the Backstreet Boys, and my Windows 95 computer would always be there as I grew up.

Now almost 20 years old, I am totally obsessed with the Backstreet Boys, finding deadstock from a 90's Delia's factory is my #1 fantasy, and I have bought an embarrassing amount of crazy stuff on eBay.
The kinds of things I collect: Backstreet Boys memorabilia and merch, VHS's (I still have my old TV in my room with a built-in VHS player), PS1 games, Sweet Valley High books, POGS, old perfume, as much Teen Spirit deodorant as I can hoard, vintage Girl Scout patches (80s-90s), and 90s CDs.
I also have a full shrine in my room full of all of this stuff, which started as just a shrine to teenage girls and femininity (originally based off of the bedroom from The Virgin Suicides), but has expanded to include 90s stuff and sometimes older vintage stuff, like my Love's Baby Soft perfume and a few Girl Scout patches from the mid to late 80s. (see shrine above)

UPDATED 4/24/17 - I now have my PS1 hooked up to my TV and working! The games I currently have are Rocket Power Rescue, Area 51, NBA 98, Frogger, and Metal Gear Solid.
eBay Hauls & Thrift Finds Archive
JUNE EBAY HAUL


two Backstreet Boys posters


BSB Millenium CD


Backstreet Boys VHS tapes (For The Fans and Backstreet Boys: All Access)


an XL Backstreet Boys tee shirt from 1998


Beavis and Butthead Do America VHS


The Babysitter's Club VHS (the 1995 movie)


Tommy Hilfiger overall shorts

SAVERS HAUL 7/17/16


10 YM, Teen People, and 'TEEN magazines from 1995-1998


Girl Talk board game (1990) - TOTALLY COMPLETE


A Goofy Movie and Space Jam on VHS


Tommy Hilfiger chunky sandals

EBAY 7/28/16


Backstreet Boys: Around The World Board Game (2000)



SAVERS - January 2017


5+ packs of Backstreet Boys photo cards (Winterland 1999)


RETURN HOME